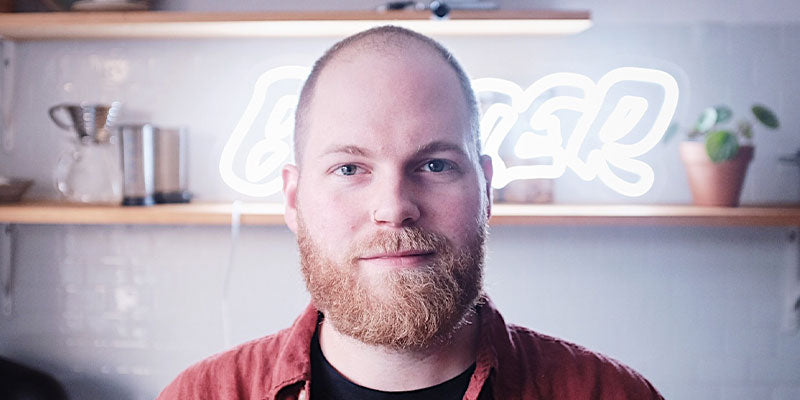 ODD JOBS
Most of us have done some odd jobs along the way that have led us to where we are now. Sometimes it's the things we learn, contemplate on and the people we meet while we pick fruit, door knock and wash dishes that leads us to where we are now. In this series, we talk to Aotearoa's makers, workers and artists of all kinds about their oddest jobs and how they work, now.
Corentin is pastry chef who runs a business called BUTTER in Ōtautahi Christchurch. He draws on creativity from many fields making desserts inspired mostly by French patisseries. The food he makes is the food he likes to eat, Not everyday (but sometimes). His treats and the process of making them are beautifully documented and regularly have me asking myself whether a Macchiato tart could make a safe journey from Ōtautahi to Whangarei. 
Corentin, what was your favourite or most memorable odd job?

Media sales - I had such a great time there. It might not be an odd job to most people, but I still have no idea how I ended up there. I think I was working on climbing the corporate ladder because I thought that's how you made a living. I went from dishy, to barista, to retail (shoes then furniture), then to sales. With sprinklings of photography and graphic design somewhere in between. It took a few years of working in an office to work out it wasn't for me, but boy was it a sweet gig.
Your photo's are beautiful, Do you feel like you have a book in you? Is this something you'd like to do one day?

Thank you! Photography has been a long running hobby of mine/ I get so much joy from being able to use that skill for my business. I feel like I'm just scratching the surface of the pastry knowledge I want to acquire, who am I to tell anyone what to make and how to do it!? I would love to publish a book, but there's a lot I want to achieve before I do. But hey, if you know a publisher I'm not going to turn down the offer.
What did you want to be when you grew up? How has this changed?

I wanted to run away with the circus. I could blow up balloon animals, do magic tricks, ride a unicycle, juggle everything. My career path has changed slightly, I don't think I could handle the travel. Or the stage. Or any of the circus for that matter.

I add a lucky coin to every Matt Nash Uniform item as I love the old tale that it brings luck to its bearer. What item brings you luck??

My tiny spatula. I feel like I can make anything happen with just that spatula. I got it at a catering store for a few bucks but I would feel truly lost without it.
What's the most delicious thing you've eaten lately?

Dinner at Story restaurant on New Regent Street, the baked cauliflower and oyster mushrooms with pink peppercorn sauce blew my mind. But it was crispy yam entrée that truly stole the show. I'm always snacking on Base Pizza though. I'm very lucky to share a kitchen with them.
What are you working on right now?

I'm working on having more of a seasonal menu, more changes all the time. I like to keep myself on my toes and trying new recipes is the way to get my creativity flowing. 
Do you have a personal uniform or a uniform you wear for working? 

My M.N Uniform apron obviously, cross back, to keep my upper back relaxed and the shorter length gives me more mobility, I run around a lot. Anything else I wear has to be in black. T-shirt, trousers, shoes. My apron can only contain so much of my mess.
What excites you about the future? 
How quickly it's coming. My 2 year plan all happened in my first six months of running BUTTER. Now I get to reflect and set some new goals, and I feel more motivated and encouraged to have bigger ambitions.
BUTTER  - Lemon Tart recipe 
I love this recipe for a few reasons. 
1. I've never had anyone refuse to eat a slice of it.
2. It's multi level, you can really phone it in and make a pretty tasty tart, or you can put your back into it and make a showstopper. I honestly prefer the former if I'm cooking at home.
3. It has three of pastries most common recipes - shortcrust pastry, curds, and meringue. It's a good one to learn if you want to move on to more advanced recipes.
PASTRY:
110g butter, room temp
80g icing sugar
1 egg
Pinch of salt
200g plain flour
20g almond meal

LEMON FILLING:
140g lemon juice, about 6 lemons
4 eggs
160g caster sugar
80g butter

ITALIAN MERINGUE:
40g water
125g caster sugar
50g egg whites
INSTRUCTIONS
FOR THE PASTRY
1. Cream the butter and the icing sugar using a wooden smooth. Make sure this becomes completely smooth and no lumps can be seen before mixing in the egg and the salt.
2. Add the flour and almond meal, mixing using your spoon until clumps form and there is no egg visible.
3. Tip your mix onto a clean counter and push the mix together into one ball. Flatten the dough once or twice with the palm of your hand if you need to further incorporate the dough.
4. Wrap in plastic wrap and refrigerate for a minimum of one hour, preferably overnight. This will relax the gluten and bring the dough together to be smooth, making it easy to roll out.
5. Take the dough out of the fridge 15-30 minutes before rolling out.
6. Preheat your oven to 160C.
7. Lightly flour your bench, and using a rolling pin, roll the pastry away from you, and turn it a quarter turn before rolling this out again away from you. Repeat until it's about 2mm thick.
8. Butter a tart ring or a quiche pan with a removable base. Lift your pastry into the tart ring, and use your fingertips to press the dough into the tart ring.
9. Trim the excess with a knife and prick the pastry all over with a fork. Freeze for 10 minutes, before baking for 15-20 minutes until golden.
FOR THE LEMON CURD
1. Whisk the eggs lightly in a heat proof bowl. Put the lemon juice, sugar, and the zest of your remaining lemons in a saucepan. Heat over medium heat stirring a little to dissolve the sugar.
2. When the mixture boils, remove from the heat and slowly drizzle into your egg mix, whisking constantly while you pour the hot lemon syrup. 
3. Pour the mix back into the saucepan and heat while whisking constantly. Turn the heat off as soon as the curd starts to boil.
4. Whisk in the butter until smooth. Pour the curd into the tart shell, making sure to fill it to the brim.
5. Refrigerate for an hour.
FOR THE ITALIAN MERINGUE
1. Pour the water into a small saucepan and then add the sugar.
2. Bring to a boil, and cook 118°C, or softball stage. Meanwhile whisk the eggs in a mixer into soft peaks and stop.
3. When the water reaches 118°C, remove from the heat.
4. Turn the mixer on medium speed and slowly pour the syrup in a thin stream into the beating egg whites.
5. Whip until the mix is completely cooled, about 3 minutes.
6. Pipe the meringue over the base into any shape you like. I cut a piping bag on an angle and pipe the meringue from the outside in. You can do it in spirals or even spread it with a spoon if you don't have a piping bag.
7. If like me you don't have a fancy kitchen blowtorch at home you can brown the meringue the old-school way. Turn your oven grill to max and set your shelf to the top row. Carefully slide the tart in and watch it closely, it will only take about 30 seconds to brown!
Afterpay Available. Free NZ shipping on all orders over $300 NZD.