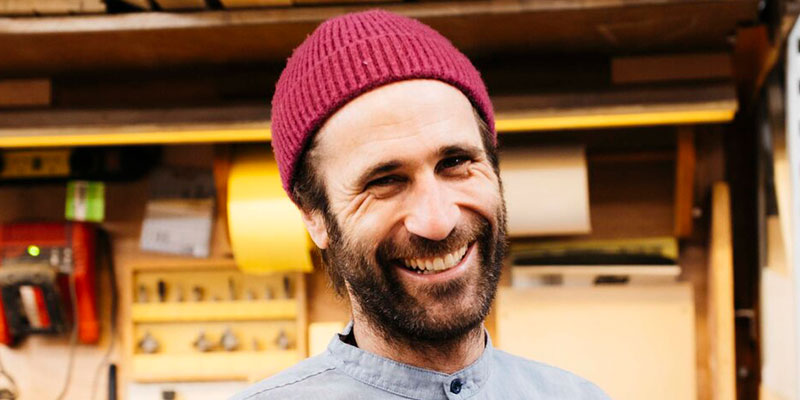 Tim Boyd is the founder of The Warren, a community workshop in central Auckland that offers classes teaching participants to build things themselves, as well as use the workshop independently. It's an open-access multi-disciplinary workshop that supports individuals and businesses to produce locally, and ensure hands-on skills are retained, shared and developed. Access to the right tools and experts to learn from are the biggest barriers to experimenting and honing your skills, so the concept of The Warren thrills me.
Can you tell me a little bit about what you do for work now?

I was a late bloomer, and trained as a plumber and gas fitter in my late 20s. I now run a plumbing business mostly doing renovation work on Auckland homes. I worked in software previous to this and I left because I wanted to do something tangible with my hands. It is a job that I really love, and have gotten good at, but sadly it's really hard on the body.



What led you to start The Warren?

About four years ago I was getting restless and my knees and back were starting to give me grief, so I started hunting for a new calling. I contemplated creating a public sauna (and still do), but did not have the capital to fit out that type of business. I was living in an apartment in the old fire station on Beresford Square, and was without my own workshop or garage for the first time in many years. I have always been keen on sharing skills and getting people more confident using tools, so The Warren grew from that enthusiasm.
What was your favourite or most memorable odd job?

When I was 15, the husband of one of my mum's employees did the maintenance at the Chelsea sugar works in Birkenhead. He offered me some holiday work and I said yes with much glee (I had a sweet tooth like nobody's business). When I arrived I was given a bucket, half brush and shovel and a chisel to chip the sugar buildup off the inside of things. We wove our way around machines, upstairs and entered into the upper part of the factory where I was shown the next area I'd be working, and what I was chipping sugar from. The ducting! I was a genuine chimney sweep. I loved every minute of it.



What did you want to be when you grew up? Has this changed at all?

The earliest thing I remember wanting to be was an architect. I spent a lot of time designing and building treehouses as a kid, and it seemed like a natural fit. Unfortunately school and I did not make good friends, which killed that idea. I've changed careers three times now and I don't see that slowing down anytime soon.


Can you tell me about a memorable person you've worked alongside who has inspired you, that has taught you a skill or an idea that you still use today.

Camille Lorigo, better known as Ellemac. We met in Edinburgh while both committee members for a not for profit arts collective, The Forest Café. She went on to run a haute couture fashion collective in Glasgow that started its life in a rundown semi squat building. Ellemac was constantly knocked back by officialdom on her road to success and I remember asking her how she keeps going when faced with so much adversity. Her answer was simple: she believed and loved what she did. Something I've always believed is when you get to a point where you lose that love, move on. There are so many other exciting things to do!
We add a lucky coin to every Matt Nash Uniform bag and jacket. What item brings you luck?

I don't have any lucky conjuring tricks or rituals, but just be nice to people and good things will happen for you.



What are your go-to songs to get into the zone for work?

I'm a sucker for a big beat, I spent my late teens bouncing around nightclubs, so when I want some energy I often reach for Underworld - Jumbo to get my night kicked off. A few more in no particular order...
- Sigur Rós - Hoppípolla
- Broken Social Scene - Cause = Time
- Timber Timber - Velvet Gloves & Spit
- Frazey Ford - Azad
What are you working on now, and what do you wear for work?

I'm scattered all over the place at the workshop at the moment. I've just finished pressing a skateboard deck in a vacuum press, I'm working on a pepper mill, candlestick holders, chopping boards, a shelf and a flower press for my niece. I've got some lighting designs that I'm mulling over too. I have been wearing an apron gifted to me by a friend in Barcelona, handmade by a local maker, but I'm pretty excited to be donning my new M.N Uniform canvas apron, which has everything a woodworker could ask for. It's been a pleasure collaborating together :)



What excites you about the future?

All of it! The unknowns, the ups and downs, discovering and learning new things and collaborating with others.
Afterpay Available. Free NZ shipping on all orders over $300 NZD.